Pansodan Scene Art Café
Budget
2,000 - 5,000 Kyats
star
star
star
star
star
4 User review
---
Wi-Fi
No smoking
Online Booking
Car Parking
---
Restaurant Overview
It is a place for teenagers who are keen to make their own art creations. You can spend your time at the Pansodan Scene art, with your close friends, discussing about artistic beauty of photography, painting, music etc. It is a gorgeous café, somehow creative atmosphere and available the Burmese traditional foods and snacks, Burmese Silone tea and also coffee. The prices are so cheap and it is best place to chill with your friend. They also held the art exhibition show, music event in combination with traditional musical instrument on the rooftop of café.
Location and Information
| | |
| --- | --- |
| Address | No.144, Pansodan Street, Second floor, Middle Block, Kyauktada Township, Yangon. |
| TEL | (+95)798559214 |
| Web | https://www.facebook.com/PansodanScene/?rf=1422371771347844 |
| Open | 9:30 AM-7:00 PM |
| Credit Card | No |
| Seats | 30 |
| Remarks | A café with library, an art gallery, a scene and free wifi access. Meeting point place of people who are loving the art. |
Do you like this article?
If you have MingalaGO user's account, you can add bookmark into your mypage.
Review
---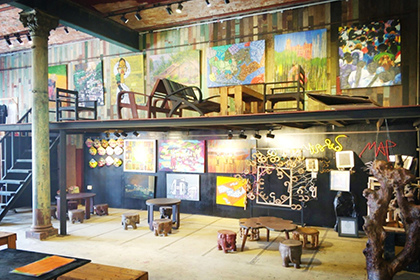 Accuracy
star star star star star
Communication
star star star star star
Cleanliness
star star star star star
Location
star star star star star
Taste
star star star star star
Value
star star star star star
May Myat Noe Khin
Accommodation
2019-11-06
Really good for read and relax place for teenager 👍.
Patricia
An artsy place with unique food menu and affordable prices
2020-09-15
The paintings and the artwork are surrounding the whole cafe and the real taste of downtown Yangon is just a glance through windows.A nice instagram spot and very refreshing. Advice to go in the morning or a bit late evening because of the weather.
Myo Min Thu
Marie
An art cafe
2020-09-18
This is a place where I can learn different kinds of Burmese art. I often hang out with my friends at there since it is a good place to take photos. Their food are also delicious with fair prices.