---
Shwe Nan Daw Kyaung where you can explore Wood sculpture of Yatana Pone era
2020-05-07
edit Ye Naung
If you explore and study the design of ancient artworks of Myanmar, you would find styles that closely resemble those of the "west" such as; India, Sri Lanka, Nepal, Bangladesh, Pakistan and those are approximately resemble those of the "East" such as; China, Kampuchea, Thailand. There has been an interflow of art and culture among nations as with religion, trade, or warfare exchange. History records instance of such an exchange. Although some styles look like those of the west and east, you can say they are a small minority. But, Myanmar artists made their creation with adaptation to suit the native culture and aesthetic taste. If you make a comparison of the design like lions, Kinnari, Sphinx or manussiha, costumes of devas, Sakra, Brahma, and floral patterns, with their foreign counterparts, you would see how far they differ and if you study the same design, you will see the changes that take place each stage.
Under various factors and circumstances, most of the wood sculptures of the Bagan and Ava era have been lost. There are only a few left to study. One of the outstanding wood sculptures of Bagan can be seen at the Shwezigon pagoda, at Nyaung-Oo. But, you can see plenty of wood sculptures of the Amarapura and Yatanapone period. At Salei Townships, there are such as Salei Youpson Kyaung, Leitha Kyaung. Also in Bagan, you can go and see wood sculptures, which are belonging to the Amarapura era, in Taungbhi and Leya.
If you observe the wood sculptures of the Yatanapone period, some of them are found very skillful at floral design but not at figures and vice versa, some are good at figures but not so skillful at flora patterns.
But, you can see some are experts both at flora and figures. In those days, their creation of the human figure is more stylish than the following realism.
If you want to explore the wood sculpture of the Yatanapone(Mandalay) period, I would like to make a recommendation to visit the Shwe Nan Daw Kyaung.
There are also some other monasteries in Mandalay, which aged over 100 years, such as Shwe Inn Pin, King Wun Min Gyi Kyaung.
Shwe Nan Daw Kyaung
Most of the people know it "Shwe Kyaung" and it is over 130 years old, now. It is a historic Buddhist monastery located near Mandalay Hill, Mandalay Region. It is an ideal place relating to the study of the Konbaung era, 19th century's Myanmar architecture.
The roof of Shwe Nan Daw Kyaung has three stages. Numerous solid teak tree trunks hold the structure up off the ground. To say exactly, there are 15 solid trunks row in the east-west side of the building, 10 in South-North and therefore, there are 150 solid trunks. Moreover, it was decorated with wooden sculptures of the 19th century, Yatana Pone period lavishly and so, you can explore so many of them all together in one place.
Background History
At the north of the Glass palace of Mya Nan San Kyaw Shwe Palace, there was a royal palace building, where the King Mindon used to live. The King passed away on October 1st, 1878 and his son, Prince Thibaw dismantled and relocated the building on October 31st, 1883 at the cost of 120,000 rupees, as a monastery to donate the monks. As it was dismantled the palace and rebuild as a monastery, and so, it was well-known "Shwe Nan Daw Kyaung", but the outer wall of the building was heavily gilt with gold, therefore, it was popular as "Shwe Kyaung" among people.
Ref - Burmese Design Through Drawings by U Aye Myint
Do you like this contents?
If you have MingalaGO user's account, you can add bookmark into your mypage.
Review
---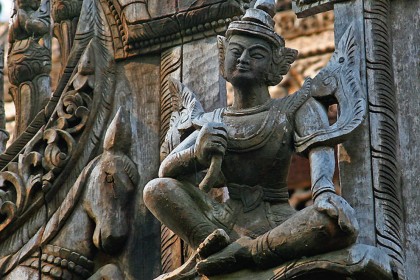 Be the first to leave a review.